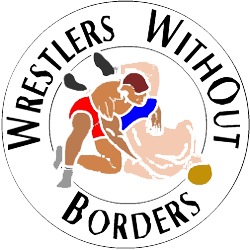 Not a member of a WWB Club? You can still sign up to receive news of what's happening with Wrestlers WithOut Borders and its member organizations. Click here.

• • •

• • •
As an all-volunteer organization, we have members and friends throughout North America, Australia, and Europe who can assist you in
locating wrestling resources
in your area. Feel free to contact any of the clubs listed here for information about their practice times and events. We are happy to answer your questions or to assist you in forming a wrestling club of your own.

Upcoming 2015 events:
January 16th-18th Las Vegas, NV
(2015 MLK WeekEnd)
SinCity2015 WWB PayPal registration link
September 25th-27th SF-Folsom2015
(2015 Folsom St. WeekEnd)
SF-Folsom WWB PayPal registration link
Welcome to Wrestlers WithOut Borders

Wrestlers WithOut Borders (WWB) is a non-profit organization dedicated to the promotion and development of the noble Olympic wrestling sports of Freestyle Wrestling, Greco-Roman Wrestling, Beach Wrestling, and Non-Gi Grappling, as defined by WWB & FILA.

.... Get ready, get set, for Gay Games IX!

The 2014 wrestling season will climax in August with the Gay Games 9 competition in Cleveland at Case Western University. Two club tournaments are planned in the States as last chances to tune up for the big event: May 24 in Denver and July 3 in Columbus, Ohio.
The Gay Games will offer both FreeStyle and Grappling opportunities. It will be the first time grappling has ever been held in the Gay Games. FreeStyle wrestling is the only sport that has been sanctioned in every Gay Games since the first one in 1982. Both will be sanctioned in 2014 by USA Wrestling.
For registration info for Gay Games 9, Cleveland tournament, click here.
For information on Grappling and FreeStyle Forms&Rules used by WWB for both events click here.
Eight wrestlers named to the 2014 WWB Hall of Merit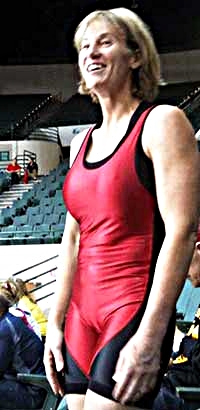 Eight wrestling pioneers will be inducted into the Wrestlers WithOut Borders Hall of Merit at Gay Games 9 in a special recognition ceremony.
This year's inductees will be:
Donna Rose, Charleston, South Carolina, national women's beach wrestling champion
Tony Galluzzo, Sydney, president of Harbour City WC
Matt Carey, Los Angeles, two-time Gay Games gold medalist
Mike Masino, Los Angeles, two-time Gay Games medalist
Gary Gerber, San Diego, 2006 medalist in Gay Games and World Outgames
Nick Lopez, San Diego, coach with San Diego Bulldogs
Greg Lines, Denver, founder of Denver Wrestling Club
David Ranada , New York City, former Metro Wrestling president
Rose, a cancer survivor, is the first transgender wrestler named to the Hall of Merit. After competing in the 1980 Canadian men's Olympic wrestling trials, Donna did not compete again until 2006, when she trained with Golden Gate WC and competed in the Chicago Gay Games. That experience revived her love for the sport and she went on to place eigthth in the U.S. Open Women's Freestyle Wrestling Championships in Cleveland in 2010. She went on to win the U.S. women's national beach wrestling championship in 2011, then took silver in beach wrestling the next year.
"Most doors were closed to me because of the fact the sport wasn't built for a 50-year-old woman going to work out," Rose told WWB. "I came to Golden Gate partly out of frustration. That lit the fire that could have been extinguished. When I transitioned, I expected I'd have to give up everything I had used to define myself previously. What I've learned is that's not the case. Parts of my life that gave me meaning are still parts of me now. The opportunity to compete and do what I love to do has been a struggle, but most good things in life are."
WWB Chair Chris Lorefice said, "I am really excited to see such a diverse group of inductees that represent the broad reach of WWB and the diversity within the sport of wrestling. We can't wait to get this group together in Cleveland for Gay Games and the Hall of Merit ceremony. See you in August!"
The Don Jung WWB Hall of Merit is named in honor of Don Jung, a CIF champion, and organizer of the first Gay Games wrestling tournament in 1982. It was founded in 2007, and there are 33 previous members. It honors those "who have displayed sacrifice and selflessness to encourage other to achieve as much as they could and to create safe and supportive wrestling opportunities for athletes regardless of skill level, gender, orientation, or age." Inductions are made every year on nominations to the WWB board.
For more information on the WWB Hall of Merit, visit our Legacy section. A story on this year's selection is available here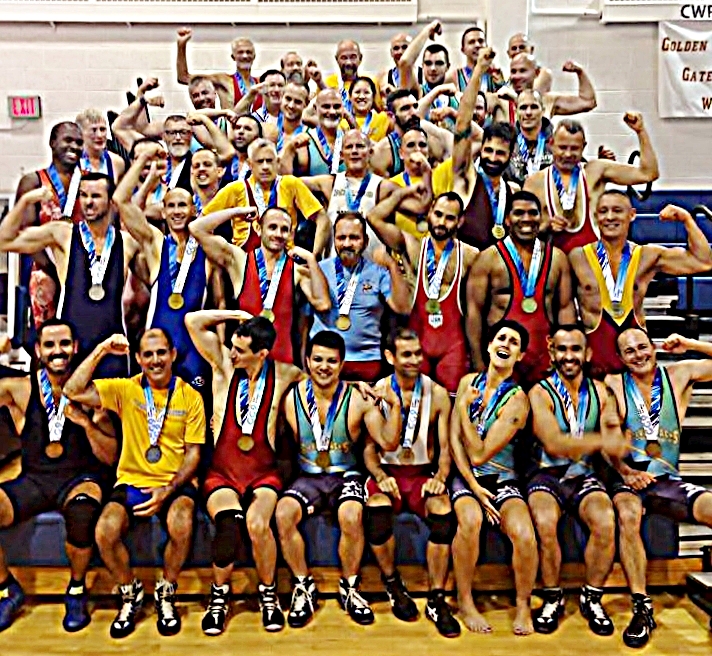 Gay Games IX Cleveland 2014: Sixty Five warriors from six countries competed in the Gay Games IX's FreeStyle and Grappling tournaments in Cleveland OH. Sydney's SilverBack's came close to winning it all out right over perennial powerhouses San Francisco and Los Angeles. There were 55 FreeStyle bouts and 25 Grappling Bouts in this first WWB/GGs offerring of Grappling as a GGs event. click here.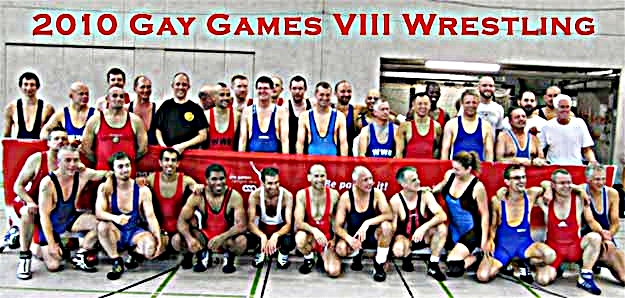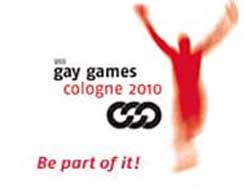 Gay Games VIII Cologne 2010: Forty warriors from nine countries competed in the Gay Games VIII FreeStyle tournament in Cologne. Powered by three-time gold medalists Gene Dermody and Calvin Malone, San Francisco edged New York City for top honors in a tight competition. For medal results, click here.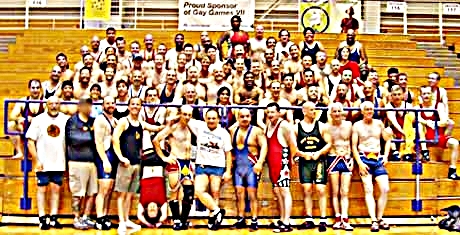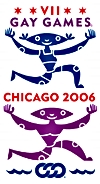 Gay Games VII Chicago 2006: One hundred warriors from five countries competed in the Gay Games VII FreeStyle tournament in Chicago in 100 bouts! click here.
Club membership is open to legitimate wrestling organizations that have demonstrated a commitment to wrestlers of all ages, gender and orientation in a safe, non-elitist environment and which adhere to the policies and procedures as set forth by FILA. We also have represented our member clubs as a voting member of the Federation of Gay Games and assist in the planning of that event.
As of October 2006, WWB was reincorporated to broaden its mission beyond the Gay Games.
Position October 2011: Letter to FGG members regarding 1QE discussions
Online petition: Keep the Gay Games the premier global LGBT sports-cultural event
Position February 2010: Wrestlers WithOut Borders NOT to support World OutGames Antwerp 2013 or Miami 2017

San Francisico BayAreaReporter 01/16/2014: Enough Already... GLISA/World OutGames Reality Check